Iron Container Manufacturer's Container Warranty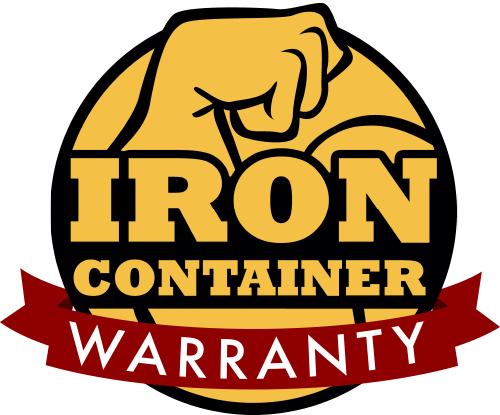 Iron Container, LLC warrants its roll off containers, front load containers, rear load containers & all other products of its manufacture against operational failure caused by defective material or workmanship, which occurs during normal use within twelve months from date of shipment from our factory.
Iron Container, LLC will replace all parts of our manufacture free of charge that our inspection at our factory shows to us to be defective in accordance with the above paragraph. Written permission must be obtained from authorized Iron Container, LLC personnel for any repairs performed other than in our factory. All claims for reimbursement must be filed with proper documentation no later than THIRTY days after occurrence to be allowed.
Iron Container, LLC makes no warranty on any of its equipment used in any way except as it was designed, intended, and sold to perform.
DISCLAIMER OF WARRANTIES: THE LIMITED AND CONDITIONAL WARRANTY AND REMEDIES SET FORTH ABOVE ARE EXCLUSIVE AND IN LIEU OF ANY AND ALL REPRESENTATIONS, SPECIFICATIONS, WARRANTIES AND REMEDIES, EITHER EXPRESS OR IMPLIED, HEREIN OR ELSEWHERE, OR WHICH MIGHT ARISE UNDER LAW OR EQUITY, OR PURSUANT TO ANY COURSE OF DEALING OR CUSTOM OR USAGE OF TRADE, INCLUDING WITHOUT LIMITATION, ANY WARRANTIES OF MERCHANTABILITY AND OF FITNESS FOR ANY SPECIFIED OR INTENDED PURPOSE.
LIMITATION OF REMEDIES AND LIABILITY: PURCHASER'S SOLE AND EXCLUSIVE REMEDY AGAINST IRON CONTAINER, LLC SHALL BE THE REMEDY OF DEFECTS IN PRODUCTS DELIVERED HEREUNDER AS PROVIDED BY, AND WITHIN THE TIME PERIOD SPECIFIED IN, IRON CONTAINER, LLC LIMITED WARRANTY
SET FORTH ABOVE. THE IRON CONTAINER, LLC LIMITED WARRANTY CONSTITUTES THE SOLE REMEDY WITH RESPECT TO OR ARISING OUT OF THE EQUIPMENT, PRODUCTS OR SERVICES OF IRON CONTAINER, LLC. NOTWITHSTANDING ANY OTHER PROVISIONS HEREOF, IN NO EVENT SHALL IRON CONTAINER, LLC BE LIABLE IN CONTRACT, TORT OR EQUITY FOR ANY LOSS OF ANTICIPATED PROFITS, LOST SALES, INJURY TO PERSONS OR PROPERTY, LOSS BY REASON OF PLANT SHUTDOWN, NON-OPERATION OR INCREASED EXPENSE OF OPERATION, SERVICE INTERRUPTIONS, CLAIMS OF CUSTOMERS, COST OF MONEY, LOSS OF — USE OF CAPITAL OR REVENUE, OR FOR ANY SPECIAL, INCIDENTAL OR CONSEQUENTIAL LOSSES OR DAMAGES OF ANY KIND WHATSOEVER.
All claims shall be processed through the IRON CONTAINER, LLC Customer Service Department.